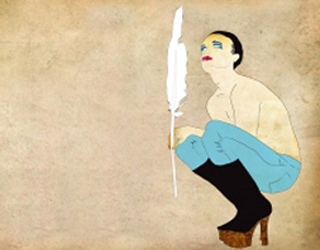 Three arts shows, a three-choir tribute to Black American music and the postmodern play "Hamletmachine" will awe audiences with their creative expression throughout March at UNC Charlotte. The venues will be intimate and the performances, world class.
You may also appreciate the low cost: The art exhibitions' opening reception and the choral concert are both free, as is parking for all of the events.
Opening reception for three exhibitions
March 17, 5-7 pm
Rowe Galleries
Tickets: Free
Three coinciding exhibitions will have their combined opening reception from 5 to 7 pm March 17 at Rowe Galleries.
Drawing Into Space: Works by McColl Visiting Artist Hollis Hammonds and Students of the Department of Art & Art History –Hollis Hammonds, the 2016 UNC Charlotte/McColl Center Artist in Residence, and 16 students from the Department of Art & Art History explore drawing and its relationship to three-dimensional space. MORE
Southern Exposure: Academic Book Arts in the New Millennium  – Southern Exposure is a contemporary survey of juried works that demonstrate the breadth and depth of book arts being produced in college and university programs across the South.
Posters Without Borders – International invitational poster exhibition.
Let It Shine: A Celebration of Black Art Songs and Spirituals
March 18, 7:30-9 pm
Rowe Recital Hall
Tickets: Free
The program features music by Charlotte native Jacqueline Hairston, with performances by Dr. Carl DuPont, bass-baritone and UNC Charlotte assistant professor of voice, and choirs from UNC Charlotte, Winston-Salem State University, and Park Road Baptist Church.
Hairston is an award-winning composer-arranger/pianist and music educator. Among her many credits are her 2012 Carnegie Hall debut as invited guest conduct with 300 singers performing her trademark choral arrangements of spirituals.
DuPont has performed on stage as Leporello in "Don Giovanni," the title character in "Dennis Rodman in North Korea," and Jim in "Porgy and Bess" at the Palacio de Bellas Artes in Mexico City. He has performed as a soloist with the Rochester (NY) Oratorio Society, Southwest Florida Symphony, and the Leipzig Gewandhaus Orchestra.
Hamletmachine
March 18-19 and 21-23, 7:30 pm; and March 22, 2 pm
Anne R. Belk Theater in Robinson Hall
Tickets: $18 general admission; $10 Seniors. Purchase
German playwright Heiner Müller wrote "Hamletmachine" in 1977 after completing a translation of Shakespeare's famous tragedy. Considered a leading example of postmodern theatre, it has been called "a powerful and enduring creation" by the New York Times. The play presents a series of monologues that dispel, according to the playwright, "the illusion that one can stay innocent in this our world."