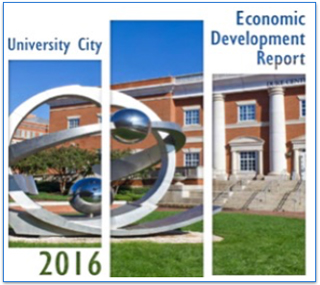 University City Partners is pleased to announce the publication of our new 2016 Economic Development Report. This report highlights public and private development projects and commercial real-estate transactions in Charlotte's University City Municipal Service District. The report also details transportation projects expected to benefit our district and businesses.
About University City Partners
University City Partners is a 501(c)4 not-for-profit corporation. We envision and implement strategies and actions to drive University City's long-term economic vitality as a center for employment, living, education, commerce and entertainment.
The organization concentrates resources in these areas: planning and development, economic development, and marketing and communications.
As a catalyst, facilitator and thought leader, University City Partners promotes public-private partnerships to create and sustain the economic vitality of University City.
Download a copy of the new report