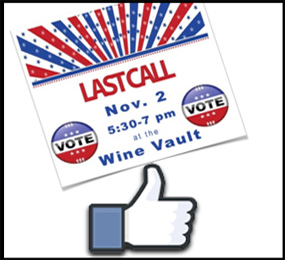 A rainy close to Election Season 2015 could not dampen the spirits of dozens of people mingling with candidates at the Wine Vault on Monday. The informal "Last Call" was convened by University City Partners.
"We had a great turnout from our candidates, and we were appreciative of the opportunity to share our priorities," said Executive Director Darlene Heater.
The early evening event drew several dozen University City residents and business leaders as well as candidates for City Council and the Charlotte-Mecklenburg School Board.
"The Wine Vault was a gracious host," Heater said. "This was just an ideal environment for meaningful dialogue about growth and development in University City."
While the Last Call had a strong tie to Tuesday's elections, Heater said the gathering also served as a building block for something much more significant for University City's future. "We did this so that we start to empower our neighborhoods, businesses and institutions to work along side of us as we advocate for this community's development," she said.