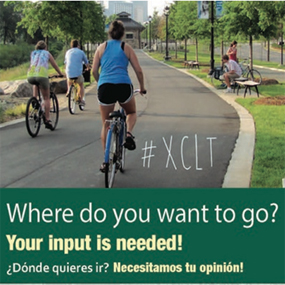 How would you design and use the 26-mile Cross Charlotte Trail linking University City, Uptown and south Charlotte? Share your ideas for the trail and get the latest details on the project at a public drop-in information session, 4:30-7:30 pm June 30 at the city-county government center, 600 E. 4th St.
About the trail
Charlotte and Mecklenburg County have teamed up to build a 26-mile trail stretching from the Cabarrus County Line to the city of Pineville. Plans call for connecting several existing county greenways, including Toby and Mallard Creek greenways in University City.
The completed trail will allow people to walk, jog, bike or roller-blade from one end of Charlotte to the other. About 98,000 jobs and 80,000 residents are located within a half mile of the proposed trail, along with many other attractions.
Charlotte voters approved $5 million in bonds last fall to plan the Cross Charlotte Trail and do some preliminary work. The $30 million needed to build more than 10 miles of new paths and complete the project will go before voters as part of Charlotte transportation bonds in the fall 2016 election.
Get trail details and share your ideas
At the community workshop on June 30, visitors can get details on the project's progress and talk to city and county planners about the trail design, possible alignments and amenities that should be included.
A similar session on Jan. 27 drew about 250 people and focuses on a portion of the Cross Charlotte Trail between Park Road Shopping Center (Brandywine Road) and Tyvola Road. Visitors were asked to vote on their most likely means of using the trail, likely destinations and desired amenities.
Most people said they plan to bike, jog or walk on the trail. Top destinations for people living nearby included Park Road Shopping Center and Freedom Park. Top amenities included water fountains, lighting and trail etiquette signs.
Want to go to the June 30 drop-in?
Come to the Cross Charlotte Trail drop-in meeting 4:30-7:30 p.m. Tuesday, June 30, at the Charlotte-Mecklenburg Government Center, 600 E. 4th St., second floor. Parking is available at the public parking deck across Davidson Street from the government center. Bike racks will be available on the Fourth Street side of the building. MAP
Learn more
Visit charlottefuture.com/crosscharlottetrail
See the proposed trail alignment MAP
See comments from the Jan. 27 information meeting in January – VIEW