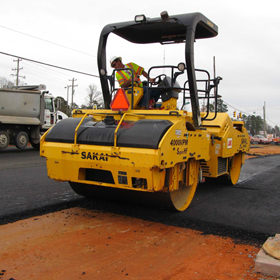 Last updated June 4, 2015
Drivers coping with the light-rail-driven reconstruction of North Tryon Street should begin to see traffic problems start to improve this fall, say city staff working on the project to extend the LYNX line from uptown to University City. Some traffic disruption will continue throughout 2016, they add, as crews complete the new roadway and install tracks.
Charlotte is widening North Tryon between UNC Charlotte and Old Concord Road to make room in the median for two sets of light-rail tracks along with transit stations and bridges. Be patient and stay alert, police cautioned at a Town Hall Meeting recently on University City's many transportation projects.
4 miles of orange barrels
The intensive road reconstruction stretches for four miles. "All you can see along North Tryon Street is lots of orange – orange barrels everywhere," transit spokesperson Sayra Brynn told the meeting audience as she reviewed what's happening along the construction zone.
Simply, construction crews are building a new highway with a much wider median, similar to what is already in place between University Boulevard and the I-85 entrance. The city is also taking advantage of the road construction to upgrade some existing drain and water lines, Brynn said.
The most intense construction is under way now through this fall, Brynn later told University City Partners. Crews are working throughout the North Tryon Street construction zone to grade for the new traffic lanes, put down preliminary layers of asphalt and install curbs, gutters and sidewalks.
In 2016, drivers will continue to deal with lane closures and lane shifts, Brynn said, as workers install the light-rail system in the new median and finish rebuilding the North Tryon roadway.
Notable construction now includes:
Street closings – Two streets are closed, Old Concord Road (to reopen in July at North Tryon; detour east of Orr Road to remain until late fall) and Orchard Trace Lane (to reopen in mid-June).
Bridges – Bridges and walls are going up in the median to carry the tracks over busy intersections at the I-85 connector and University City Boulevard. A third bridge will be built over Harris Boulevard.
Campus work – The longest bridge on the line is going up over Toby Creek and surrounding wetlands on the UNC Charlotte campus. Work has also started on a retaining wall near the end of the line.
Parking decks – Work started recently on the 1,500-car deck near the University City Boulevard station, and the 800-car station at J.W. Clay Blvd. near campus. Both will have retail space on their ground floors.
Be patient and alert, police advise
Police Captains Todd Garrett of the University City Division and Rob Dance of the North Tryon Division said that the intense roadwork and reduced speed limits (now 35 mph in the construction zone) have greatly increased travel time and frustration.
"I've had to start listening to classical music to keep my blood pressure down," Capt. Dance joked. "Be patient about traffic," he added. "Police officers are out there every morning, but when we have an accident it slows things down."
Garrett said that many of the traffic accidents taking place along North Tryon result from inattentive drivers who text and do other things during the extra-slow commutes.
Road closings all the way to uptown
Of course work is taking place all the way to uptown Charlotte. The Blue Line Extension picks up where the current LYNX Blue Line ends at 7th Street. The light-rail tracks will run in existing rail corridors until just after crossing under Eastway Drive. At that point, the line will veer off toward North Tryon street and enter the median at Old Concord Road.
Several streets along that stretch of line are closed for LYNX construction. These include:
North Brevard Street (reopening in late June).
36th Street in NoDa (opening in fall 2016 with 36th Street going under the tracks).
Eastway Drive (reopening in August with completion of an expanded bridge over the rail lines). Once Eastway Drive reopens to traffic, Sugar Creek Road near Davidson Street will close so the state can build a new bridge that will carry Sugar Creek Road over the tracks.
Coming in 2016 – More work but less hassle
Construction will continue for another year along North Tryon Street, but most of it will occur in the new median as crews install tracks, build stations and add the electrical system that powers the trains. The current timetable calls for the Blue Line Extension to go through final checks and testing in early 2017 before beginning operation.
Keep informed
Brynn urges people who travel through the construction area to keep up with progress, construction work, detours and closings via the Blue Line Extension website, Facebook page and email alerts. Sign up for the alerts at the BLE website.