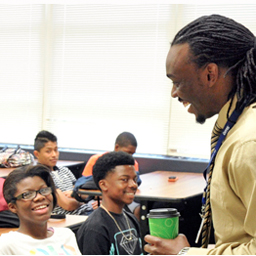 Our public schools need your help right now, even if you only have a few hours to share. Among the needs are volunteers to proctor exams and people, groups and businesses who'll give time and resources for next week's Teacher Appreciation Week, says Andrew Chadderton, community partnership coordinator for several University City schools.
Chadderton is part of a small but vital program within Charlotte-Mecklenburg Schools to bring together schools and community resources. Chadderton focuses on the four Governors Village schools in University Research Park,plus four others nearby that feed into Vance High School.
He works with individuals, businesses, non-profit groups and faith-based groups wanting to help our students succeed – "whether by providing resources like book or chairs, or mentoring, or reading to a student or explaining a career and how they got into it," Chadderton says. "We like to focus on academic needs of students as well as social and emotional needs, so they grow up to be great students and people, as well."
Schools have specific needs right now but welcome help throughout the year. Chadderton encourages you to contact him soon to begin exploring how you or your group can get involved next fall.
How to get started
Reach Andrew Chadderton, Community Partnership Coordinator, at andrew1.chadderton@cms.k12.nc.us or by calling 704-280-1050. If possible, leave a brief message about how you hope to help.
Register at CMSVolunteers.com – Click the link and fill out the volunteer form. Charlotte-Mecklenburg Schools requires all volunteers to complete this screening process as a way to protect the children.
Immediate needs
Teacher Appreciation Week
When: May 4-8
The need: Show our teachers that the community values their contribution to our children.
How you can help: Contact Chadderton to discuss ways you or your group can help thank teachers for their work. This might mean writing thank-you notes, creating gifts, providing food or lunch, donating gift cards or volunteering in the school so teachers get a little time to themselves. "We are open to your ideas, too," he adds.
Test proctoring
When: The last week of May and first week of June.
The need: Volunteers to monitor students taking exams, so school faculty and staff can perform other duties.
How you will help: Our schools need two adult proctors to oversee each exam, to ensure that students follow testing rules. Exams typically take place 8 am-noon. Volunteers will receive about 20 minutes of instruction prior to the exam.
Next steps: Contact Chadderton for specific details about schools and exam times. Also complete the volunteers screening process at CMSVolunteers.com.