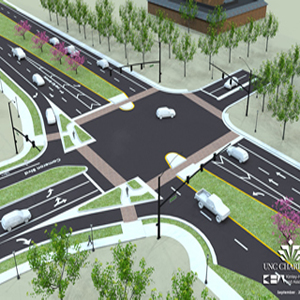 Work has begun to improve UNC Charlotte's Cameron Boulevard entrance. The new traffic signal, turn lanes and crosswalks will give the university its second main entrance on Hwy. 49 and provide students living at the growing South Campus a safer way to walk to nearby Town Center Plaza. Completion is set for mid-August before football starts.
When finished, traffic leaving campus will have two signalized left turn lanes onto Hwy. 49 (University City Boulevard). One of those lanes will also double as the through lane to a small office-medical park across the street. There will also be a dedicated left-turn lane. Traffic on Hwy. 49 will have signalized turn lanes onto campus and into the office park.
Pedestrians will get much needed help crossing the wide and busy highway with both signalized crosswalks and small "refuge" islands to shorten the amount of time spent walking in the roadway.
While the state works on the intersection improvements, UNC Charlotte will widen Cameron Boulevard to Alumni Way and add a median, sidewalk and bike lane.
More improvements around campus
The Cameron Boulevard improvements are among several projects taking place this year on campus to ease traffic flow while helping UNC Charlotte achieve its goal of becoming more pedestrian- and bike friendly.
All projects are expected to be finished by mid-August. The Facilities Management Department recently posted this progress report on the projects:
Phillips Road Work and New Intersection at Cameron Boulevard – Construction continues on Phillips Road, with a new intersection to be created where Phillips Road meets Cameron Boulevard near the tennis complex. A traffic signal is planned, along with a widened roadway, bike lanes and ADA-compliant pathways to the tennis courts. Toby Creek Greenway will pass under the new Phillips Road bridge.
W.T. Harris Boulevard entrance at Alumni Way – During this same time period, work will begin to add a left turn lane for traffic to enter campus from W.T. Harris Boulevard onto Alumni Way.
Craver Road, near Cameron Boulevard – Two bus stops/pull offs will be added on Craver Road as to not block traffic near the intersection of Cameron Boulevard, along with sidewalk replacements/additions and bike lanes.
Mary Alexander Boulevard corridor improvements – Two other bus stops/pull offs will be added on Mary Alexander Blvd as to not block traffic, along with sidewalk replacements/additions and bike lanes.
Cameron – Mary Alexander intersection improvements – A traffic signal is slated for the intersection of Cameron Boulevard and Mary Alexander, also with bike lanes.
Stay in touch
You can find progress reports about all campus construction projects at the Facilities Management Department website.