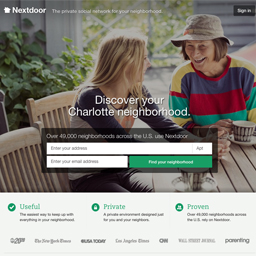 University City residents are quickly discovering – and using – Nextdoor, the social-media channel for neighborhoods. Get help finding a lost pet, post a classified ad or tell neighbors about a new store nearby via your computer or smart-phone. You'll also get crime alerts from Charlotte-Mecklenburg Police, who have become Nextdoor's biggest local booster.
"I love it!" says Officer Chad Webster. "If we see a trend, we will get something out." And with so many people receiving Nextdoor email alerts via their smart phones, police can now get the public's help in emergencies like the special-needs person who recently went missing near UNC Charlotte. "We put out a post, and within an hour someone had called 911," Webster says.
The private network for neighborhoods Nextdoor launched in 2011. Its creators describe it as "the private social network for you, your neighbors and your community." Members can share posts with others in their neighborhoods and, if they want, with people in nearby neighborhoods, as well.
Privacy is a big concern, of course. Nextdoor's website explains how it verifies each member's community and how it seeks to keep the conversations pleasant and positive – both through guidelines and the empowerment of neighborhood "Leads" who monitor the posts and have the power to remove offensive ones.
Strong CMPD support
Typical recent posts among University City Nextdoor users include suggestions for roofers and fence-installers, praise for volunteers who put up a neighborhood's holiday decorations, numerous lost and found pets, items for sale (Nextdoor offers a classifieds area) and CMPD alerts to call 911 if people spot suspicious cars or people in their neighborhoods.
The ability to reach many people quickly with public-safety alerts is the reason that the Charlotte-Mecklenburg Police Department became an official Nextdoor partner in fall 2013. Since then, CMPD has strongly encouraged Neighborhood Watch groups and neighborhood associations to have its members join, Webster says. "What we've done is reach out to community leaders and told them, 'Hey, here is the next generation of Community Watch. Would you or your association's management office consider being a lead?'
"We tell them, 'This is something we're using. If you want to be in the know, it's a good idea to sign up.'"
Rapidly growing membership
The message has begun to get traction. Webster says that the number of Nextdoor members in the University City Division has nearly doubled in the last four months, to 3,800 households. One townhome community, Mallard Glen, on Mallard Creek Church Road, has nearly 100 members. The Radbourne, Wyndham Place and Fountaingrove neighborhoods have launched membership campaigns in the last two months.
Shawn Lee of the Wyndham Place neighborhood said that he started using Nextdoor about two months ago, after the neighborhood association's president sent out an email urging residents to sign up. Now he reads most messages on a smart-phone ap and occasionally posts items for sale on the service's classifieds area. "I think it's useful as it keeps our communities connected much the way that other social media does, on more of a real-time basis. It's quickly becoming the "new" Neighborhood Watch," Lee says.
A new way for neighborhoods to communicate, too
The Radbourne neighborhood has for several years maintained a strong e-mail communication system linked to its website, says HOA President Richmond Baker. But in December he sent out an email to Radbourne residents to consider signing up for NextDoor, as well. Now a third of the 207 households are Nextdoor members, and Baker hopes to get that up to 50% or more.
Baker checks the Nextdoor posts three times a day. Common topics include restaurant recommendations, items for sale, recent graduates looking for jobs and, around the holiday season, suspicious activities. Baker especially likes that Nextdoor links Radbourne with other nearby neighborhoods. "As a community leader there have been several times where I wanted to/needed to talk with leaders in neighboring communities, but there was no easy way to do it," he said. "I think that the service is very useful, in connecting adjacent communities to one another."
For instance, Radbourne and several other neighbors share access to the Clark's Creek Greenway. Lost pets often wander onto the greenway and into Radbourne. "Now, with this system, it's a bit easier to try and get the lost pet back to their owner if they are not chipped," Baker says.
Reaching across borders
The Fountaingrove HOA also has a strong email communication system, says Clair Lane, who oversees it as part of Fountaingrove's Community Watch. After watching Nextdoor's popularity grow over the past two years, Lane recently became a member and is encouraging neighbors to join, as well.
"I don't need Nextdoor, but I stress to everyone to sign up for Nextdoor, because if I'm not around (to send out email alerts), you will still get the information from other folks," she says.
That information includes crime alerts from nearby neighborhoods. "What happens is there may be things going on in another neighborhood. They might not be going on in our neighborhood, but when I put it out there (via email and Nextdoor), it gives you a heads up of what to watch for," Lane said.
Nextdoor also has given Lane a new way to communicate with nearby neighborhoods. That paid off in a special way in December, when Lane was collecting toys and other donations for people in need. "I put a blurb out there, if anyone wanted to donate, and we had four people on Nextdoor who responded," Lane said – all from other neighborhoods. "I said, 'Wow! This is really great.'"
Learning curves ahead
As with any new communication system, Nextdoor takes a while to fully figure out. "We are still just getting used to the system, and we are not always clear on exactly who can see what," Baker says. The Nextdoor website offers extensive FAQ and help areas, plus ways to communicate directly with the Nextdoor staff in San Francisco.
A key element of the Nextdoor operation is the neighborhood "lead" – often the first person in a neighborhood to sign up for the service. The lead is responsible for growing the neighborhood membership, answering questions about how Nextdoor works, monitoring posts and even removing ones that are offensive or break Nextdoor rules, such as advertising for businesses. Nextdoor recommends adding more Leads with each 50-75 members.
More features with broader reach
Nextdoor also adds new services on a regular basis. In December, it launched the Holiday Cheer Map, to help neighbors share their favorite Christmas-decoration displays. An events calendar is the latest addition. Members can post events for their neighborhood, surrounding neighborhoods or even the entire Charlotte Nextdoor community.
Want to know more?
Visit Nextdoor.com for information on the service. You do not need to be a member to read the extensive guidelines. You can also learn more at the Nextdoor blog.