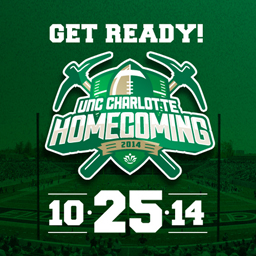 Autumn in University City has long meant NASCAR fans, 'Cue lovers and politicians. A new crowd will soon put its green and gold mark on fall fun – 10,000 UNC Charlotte alumni who'll pack Jerry Richardson Stadium on Oct. 25, greet old friends, fill nearby pubs and perhaps, in due time, donate money to help future 49ers succeed, too.
"Homecoming Weekend is about much more than football," says Lynne Wester, who oversees alumni events like the tailgating party and post-game Oktoberfest. "It's about reuniting with people you had a good experience with. Football is the catalyst for us now, but it is just the tip of the iceberg."
The magnetic lure of 49er football
Our growing university also has a growing group of alumni – 110,000 so far and adding about 6,000 more annually. The mission of the alumni association is to maintain strong bonds with graduates through activities such as networking events, travel programs, the annual Alumni Awards Banquet and, now football tailgating parties.
Ah, football. "It is probably the best way to get alumni back to campus," Alumni Association Executive Director Jenny Jones says. And Homecoming Weekend is the best football event of the year. The alumni association is working hard to make the most of it.
"Last year we started things three months out. This year we started nine months out," Wester says. "We have been advertising Homecoming since September, and we have an incredible team of volunteers." All but one activity will take place on campus or nearby. The lone exception is the Young Alumni Chapter's Friday night bar crawl in uptown, where many of the chapter's members now live.
The biggest alumni tailgate party of the year will take place Saturday morning in Alumni Village, near Toby Creek. Alumni can return after the game for an Oktoberfest. "We expect to be at 1,000 or larger for both events," Wester says – double last year's number.
Among the crowd will be alumni Vickie and Gene Johnson, who two weeks ago announced that they have donated $2 million toward launching UNC Charlotte's 150-member marching band. "Gene Johnson will speak about why they gave to the marching band," Jones said. "It will be nice to have him there in person."
Support from University City businesses
Several area businesses are providing important support for Homecoming Weekend, as well.  Tim Wallace, a 49er alumnus and owner of the Wine Vault at University Place, will donate support for the tailgating tent. The Charlotte Hilton University Place is providing a block of rooms for alumni. Chick-fil-A at University Place will provide discount food trays on game day and donate a portion of the proceeds to the Alumni Association. The 360 Casual Italian Bistro will host a Homecoming After Party by the Black Alumni Chapter.
Jones is certain that many businesses near campus will benefit from the alumni flood on Homecoming Weekend. "There's not any way now for us to judge the economic impact," she says, "but when you bring 15,000 people to campus, they will stop for gas and go out to eat. I can't imagine there will not be huge impact on game day, especially for Homecoming Weekend."
Countdown
Countdown to the big weekend is nearly over. Jones has become a student of weather. "The 15-day forecast says it will be 55 to 75. No clouds or rain at this time," she says. By Homecoming Saturday, she jokes she'll be checking the forecast "every five seconds."
But if it rains on game day, the Alumni Association will be ready. The tailgating event and Oktoberfest will take place under a 10,000-square-foot white tent – with plastic sides that can roll down, just in case.
Homecoming event details
The 2014 Homecoming Game vs. James Madison University will kick off at noon Saturday, Oct. 25, in Jerry Richardson Stadium.
Visit https://Homecoming.uncc.edu/ and http://alumni.uncc.edu/connect/events/Homecoming-2014 for details of other Homecoming Weekend events, including Basketball Madness on Oct. 23; and the Festival of Lights Parade and Pep Rally on Friday evening, Oct. 24.