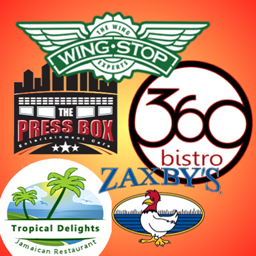 Looking for a new place for lunch or dinner in University City? You're in luck! Our ever growing and highly diverse restaurant scene has several new choices open or coming soon, including Japanese buffet, Caribbean cuisine, Philly-flavored Italian and Carolinas home cooking. "Hidden gem in Charlotte food," raves one reviewer about Tropical Delights Caribbean Cuisine. "Amazing atmosphere! Amazing food! Amazing service!" posts a Facebook fan of 360 Casual Italian Bistro.
Here's a quick look at the latest restaurants to open, plus a hint at more to come.
360 Casual Italian Bistro
520 University Center Blvd (West W.T. Harris Blvd at McCullough)
980-938-5814
Hours: 11 am-10 pm Sun-Thu; 11 am-11 pm Fri-Sat
360 Bistro has gotten dozens of great reviews on Yelp, Google and Facebook since opening in July on Harris Boulevard's restaurant row near I-85. The restaurant was already pleasantly full and fragrant when we stopped by for an early evening dinner last week. Many of the entrees reflect co-owner Dan Glasser's Philadelphia roots and love of Italian cooking. The menu includes numerous personal-sized pizzas, sandwiches such as the salmon BLT with fried green tomato (soon to come on focaccia bread, Dan says), and several choices of locally brewed craft beers. Check Facebook and the360bistro.com for the latest dining and beverage specials and mouth-watering photos.
Press Box Entertainment Café
9609 N. Tryon St. (in the Terraces at University Place beside Flying Saucer Draft Emporium)
704-717-2727
Hours: 11 am-2 am daily
"There's More To It," reads the website homepage. By that, the owners might mean the dozen 9-foot diamond tables in the Press Box's "state of the art" poolroom.
Or perhaps the generous portions of some of their signature dishes, such as the Pylon – "A burger of volcanic proportions. American cheese and cheddar, piled high with onion rings, bacon bits and Jack Daniels bbq sauce – $10.50."
Or the surprise of also finding, among the entrees, Salmon Vin Blanc – "Salmon infused with white wine and lemon, atop a mound of roasted garlic smashed red potatoes and asparagus – $16.95."
Or maybe the wide assortment of beers, including 24 on tap, 28 bottles and 2 cans. You know a place is serious about beer when it has its own online beer menu. We'll let you visit and decide.
Tropical Delights Caribbean Cuisine
9211 N. Tryon St., Suite 1 (near Kohl's)
980-209-9323
Hours: 10:30 am-9:30 pm Mon-Thu; 10:30 am-10 pm Fri; 8:30 am-10 pm Sat; 11 am-7 pm Sun
"Tropical Delights is a restaurant that serves delicious Jamaican and Caribbean cuisine in a wonderful atmosphere," says the restaurant website. "Our food is made from scratch with only top quality ingredients, including spices, vegetables, and fresh fruits."
The restaurant menu includes Jerk Chicken, Curry Goat and the very popular Ox Tail. And expect dishes with some heat. "The hot and spicy barbeque style of cooking is a Signature product of households in Jamaica," the website explains. "Experience the sumptuous essence and the tasty escapade of pure Jamaican food roll down your tongue where you savor each delicacy so exquisite that it turns into a festival of spices and mixture to your senses at Tropical Delights."
WingStop
9211 N. Tryon St. (in the former Starbucks location near Kohl's)
980-237-1349
Hours: 11 am-midnight daily
Charlotte's first Wingstop restaurant opened in University City last spring. We'll likely see many more, as Wingstop spreads its wings around the globe (they already have restaurants in 35 states, Mexico, Singapore, The Philippines, Indonesia and even Russia). The specialty, of course, is chicken wings. Wingstop says it has sold more than 2 billion since launching its first of 600-plus restaurants in 1994.
"We keep the sole focus on saucing and tossing wings, boneless wings and strips that are cooked-to-order and served piping hot in your choice of 11 savory flavors," says the website. Those flavors range from Teriyaki (mild) to Atomic (take a wild guess). Boneless strips feature all white meat. You can add several sides including Bourbon Baked Beans, seasoned fries and veggie sticks.
Zaxby's
8334 IKEA Blvd. at University City Blvd. (near IKEA)
704-596-13201
Hours: 10:30 am-10 pm Mon-Thu; 10:30 am-11 pm Fri-Sat; 11 am-10 pm Sun.
For another take on chicken, try the new Zaxby's near IKEA on University City Boulevard. Yes, it has several wings dishes, but also several other chicken plates, salads and sides. "An alternative to fast food, Zaxby's offers prepared-at-order chicken fingers, wings, sandwiches and salads," says the company website.
Zaxby's most popular items are its hand-breaded Chicken Fingerz and Traditional or Boneless Wings, smothered in a choice of nine sauces with names like Wimpy, Tongue Torch, Nuclear and Insane." University City's Zaxby's features a 3,847-square-foot restaurant that can seat 90. Zaxby's also offers drive-thru service.
More dining on the way
Two more restaurants are coming soon. We'll share details in coming newsletters.
Rebecca's Taste of the South – 630 University Center Blvd. (formerly Logan's Roadhouse, facing West W.T. Harris Blvd near McCullough)
Tokyo Grill and Supreme Buffet – 8215 University City Blvd. (near Home Depot in the Commons at Chancellor Park)