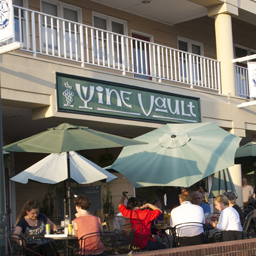 Like a vintage Bordeaux, the Wine Vault at University Place looks even better today than it did when 1980s restaurateur Slug Claiborne launched it nearly 30 years ago as a part of his Slug's University Place restaurant. The Wine Vault has thrived and evolved under longtime owner Tim Wallace into the signature gathering spot for our community. Recently, while Tim worked on an order for French Bordeaux and Italian Chianti wines, we chatted about the Wine Vault and University City's future.
Loss of patio oaks
UCP – We hated to see the loss of the big oak trees last spring that shaded the patio in front of the Wine Vault. How have you handled it?
Tim – It was just awful thing they had to do. They were so nice. It will take another 10 years to get them a little like what they were. It's been such a cool summer anyway, it really hasn't bothered us. I'm just kind of disappointed.
Starbucks for wine?
UCP – Whenever we visit the Wine Vault and walk into the lounge you created out of the former business next door, the first thing we think of, when we see the couches and overstuffed chairs, is Starbucks. Have you heard that before?
Tim – That's exactly what it is. In the winter it's always packed.
Beergarden
UCP – We know that the Wine Vault has hundreds of kinds of beer, but isn't that "Beergarden" sign above the lounge area a new addition? Why did you add it?
Tim – It was added this summer. We had to replace the sign (for a former business in the space now occupied by the Wine Vault lounge). I didn't want another Wine Vault sign, and we sell so much beer, so I thought, it's perfect. Sitting outside is like sitting in a garden.
Beer has always been important to us. In the summertime, most people are sitting outside and relaxing and drinking, so we sell a lot more beer at that time.
Beer tastings, too?
UCP – We noticed on the website that you are now naming a Beer of the Week. Is that new?
Tim – Karen Matzke is the beer goddess. Karen does all of our beer. She's focused on beer. She loves it. She's obsessed with it, so I let her promote it as much as possible. She does a beer of the week and tries to buy as much of the allocated and limited beers as she can.
She does a beer tasting every other Friday at 6. Her beer tastings are six beers from a particular brewery, or a style, or some kind of allocation.
Wine tastings and dinners
UCP – We noticed that you recently had a wine dinner. How often are you doing those?
Tim – We do them a lot, sometimes once, sometimes twice a month – and events in general: dinners, tastings, winemakers visiting here.
(The Wine Vault now offers both a weekly Wednesday wine tasting – $5 for 6 samples at 7 pm – and a second wine tasting on Fridays that alternates with the beer tastings.)
The Friday one is a millionaire tasting. We choose three high-end wines. It's still $5, but you get to try three incredible wines!
Dog friendly wine bar?
UCP – We see that the Wine Vault recently sponsored a pet-adoption day. What prompted that?
Tim – I have three dogs. I should not have three, but I do. I'm allergic to them. We do the pet adoption program twice a year because we are so dog friendly. It's fun. Dogs can come into the store anytime they want, as long as they're nice and the owners are nice.
Light rail and University City
UCP – Many people think the coming light-rail line down North Tryon Street could bring big changes to University City and, especially, University Place. What's your take?
Tim – It is going to be really interesting. I can't wait. I want to see how the redevelopment will go. I think it will be really cool, and there will be so much infill. That will be neat to see, as well as the redevelopment of these spaces that have character already. I hope they won't be torn down.
Cheers with class
UCP – What would you like people to remember about their visits to the Wine Vault?
Tim – That this is not just a place. You come here with nothing, no chip on your shoulder. Everybody is the same. We treat everybody the same, we love everyone. This is really just a place to relax and enjoy really good wine and the people you are with. The only difference is we work very hard with what you drink here. I did two tastings in New York, one a French portfolio that I buy a lot and the other an Italian portfolio that I buy a lot. The most important thing that I do is decide how we stock our store. Which is what I'm doing now," Tim said, as he went back to placing his next wine order.
Stay in touch with Tim and the Wine Vault
9009-I J.M. Keynes Drive at the Shoppes at University Place.
704-548-9463
Hours:10 am-11 pm Mon-Tue; 10 am-midnight Wed-Thu; 10 am-1 am Fri-Sat; and 1-11 pm Sun.
Newsletter: Sign up at the store