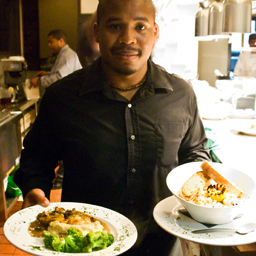 Restaurant Row on West W.T. Harris Boulevard has an exciting new addition – 360 Bistro. Open just three weeks, the restaurant has 34 glowing reviews on Facebook and a "Hot and New" label on Yelp. Everything's made from scratch here, from the 10-inch Gourmet Pizzas and Raw Bar dishes to Italian-inspired entrees like Lobster Ricotta Ravioli.
"Can I just say how exciting it is to have fresh good quality food, a unique menu at reasonable prices in the University Area!!!" a visitor posted on Yelp! last Friday.
That's exactly what partners and University City residents Dan Glasser and Charles Heller had in mind when they launched 360 Bistro in the former Bikinis restaurant-bar building. "University City really needed a restaurant like this," says Glasser, a veteran chef who moved here five years ago from Philadelphia. "Just from my own living in the area, I was tired of going to chains. I knew there was a void here," he says.
It started over Mac 'n Cheese
Every new business has that moment when key players come together for the first time. Fittingly, that moment came over a dish of Glasser's award-winning Mac 'n Cheese. Glasser was general manager at an upscale sports bar in the Mountain Island area. Heller stopped by to eat, they got to talking and soon realized they shared the dream of launching their own restaurants.
The concept for 360 Bistro evolved over the next year. The men looked at possible locations throughout Charlotte but found the former Bikinis restaurant almost, well, by accident, while driving together on Harris Boulevard. "When we saw the sign coming off the building, we literally almost caused an accident!" Glasser says.
Two days later they had a signed letter of intent. In just 10 weeks they overhauled the interior, took down walls, pulled out a ramp and completely made over the kitchen. The result is a spacious, open restaurant, white tablecloths, gently swirling ceiling fans, an elevated bar area to one side and '70s and '80s music playing softly.
Chef-inspired menu at affordable prices
Chef-inspired menu Glasser calls the 360 Bistro menu "chef-inspired," meaning that each dish was created by chef Anthony DeMello or Glasser.
"Everything is made in our kitchen," he says. "We use only free-range proteins and pesticide-free produce. And we make everything – desserts, too." There's no easy label that sums up what you'll find on the menu. "We have Italian dishes on the menu, and French dishes, and fried green tomatoes," Glasser says. "I tried to put something on the menu for everyone. There are even healthy options for kids."
He also has worked hard to offer truly delicious meals for far less than you might find, say, downtown or down south. The Lobster Ricotta Ravioli, at $19, is the most expensive item on the 360 Bistro menu. Most entrees cost $9-$14 and come with a "house" salad that deserves a much better name.
Start with romaine and iceberg lettuce and red cabbage; top with bacon, diced pears, chopped toasted pecans and Bleu cheese crumbles; toss with homemade apple cider vinaigrette. We had one, and it is every bit as delicious as it sounds.
The Gourmet pizzas feature dough made at the restaurant with fresh herbs for extra flavor. Choose from 15 varieties, most costing $9-$11; or make your own with a choice of sauces and 26 toppings.
Building the buzz on Yelp! and Facebook
The restaurant opened in mid-July and has quickly built a strong following. Among the compliments on Facebook and Yelp!:
"For entrees, we had chicken franchaise (awesome) and lobster ravioli (awesomest)."
"Low and behold there is an Italian eatery from NYC / Philly here. We have been in heaven. I love the Macaroni and Cheese as a side dish (you can split – it is large)."
"We just tried this place for the first time and definitely will be back. I highly recommend the spinach artichoke dip appetizer and loved the pizza (especially the rosemary crust). Great ambiance and service as well!"
Numerous drink and dining specials
Glasser keeps building interest with daily, weekly and monthly specials. Throughout August, you can get an appetizer for half price with the purchase of an entrée. The big news this week is the launch of a new lunchtime-specials menu featuring a half-dozen meals for $7.99 each.
The drink specials have also been popular, Glasser says. Get bottles or glasses for half price on Wine Wednesdays; Get pints of NODA and Olde Mecklenburg Brewery draft beer for $3 on Thirsty Thursdays. You can find other drink specials on the 360 Bistro website and Facebook page.
Glasser uses Facebook to announce his latest meal specials, too, including many with 10% extra off the price if you know the password (offered on Facebook, of course). Perhaps that's why the restaurant has added 300 Facebook Friends in three weeks.
You're invited to dine, enjoy, post!
Speaking of Facebook and Yelp!, Glasser and Heller hope that you'll come, enjoy a lunch or dinner and add your own online review – especially if you want to help authentic and unique dining options flourish in University City.
Yes, travelers and even locals really do use those guides. During our visit last Friday for dinner, we talked briefly with an older couple sitting near us. They had just come from Ohio for a weekend visit, the man said, and he chose 360 Bistro based on its glowing Yelp! reviews. "We're glad we did, and we will definitely be back," he said.
360 Bistro details
Location: 520 University Center Blvd. (just off West W.T. Harris Boulevard at McCullough Drive)
Hours: 11 am-10 pm Sundays-Thursdays; 11-11 Fridays-Saturdays.
Phone: 980-938-5813
Website: the360bistro.com
Facebook: facebook.com/the360bistro