Want to feel proud about University City? Click on the link below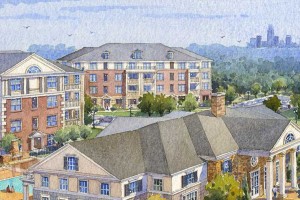 and watch the video for brand-new Crescent Alexander Village.
Want a glimpse of what we do at University City Partners? Consider this: Six years ago we invited ULI planning and development experts from across the nation to craft a new vision for 42-year-old University Research Park. Their work led to the URP Master Plan, Charlotte's official URP Area Plan and Crescent Alexander Village, whose first phase alone represents a $34 million investment in our future.
Not a bad return!
About Crescent Alexander Village
Crescent Alexander Village is the first phase of a 63-acre mixed-use development by Crescent Communities. When completed, Crescent Alexander Village will include a 320-unit apartment village, up to 250,000 square feet of offices, a 200-room hotel and 75,000 square feet of retail (or more, if a smaller hotel is built).
It's clear from the website images and video that Crescent expects to attract highly paid young professionals who hope to bike to work, shop nearby and enjoy a good bottle of wine from University City's signature Wine Vault at University Place.
An overnight success in just six years
The official opening of Crescent Alexander Village started six years ago when UCP's first executive director, Mary Hopper, invited the Urban Land Institute to send a team of business-park experts to create a new vision for University Research Park. In fall 2008, the ULI team spent two days touring the park, talking to company managers and comparing notes.
On the third day, at a special conference, the team presented their vision for the future University Research Park. Among their ideas: Celebrate the natural setting, erect signature landmark signs and even buildings along I-85, transform the Mallard Creek floodplain into a lake and urban oasis, greatly increase development density, expand the street network and create a destination mixed-use community for young professionals – a truly radical idea for a business park devoted strictly to business activities.
Not just a plan – a call to action
Many plans arrive with fanfare and disappear onto dusty shelves. Not the URP plan. University City Partners provided the funding to develop the ULI vision into the URP Area Plan – adopted by Charlotte City Council in 2010 as its official guide for future development inside the research park.
The city area plan, in turn, encouraged one of our region's great community developers to create a bold vision for the heights overlooking Mallard Creek Church Road and the nearby campus of TIAA-CREF: high-end apartments for young professionals focused on URP, plus 250,000 square feet of offices, a hotel and up to 101,000 square feet of shops and restaurants.
Want to know more?
Learn about Crescent Alexander Village >> GO
View the promotional videos >> GO
Download the URP Area Plan >> GO
Contact University City Partners Executive Director Darlene Heater: dheater@universitycitypartners.org