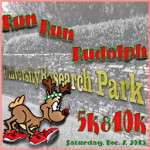 Fun 5K/10K on Saturday will benefit Brain Tumor Fund for the Carolinas
You can win three ways at the inaugural Run Run Rudolph 5K/10K race this Saturday in University Research Park: Finish first in either race OR win the crowd's loudest applause as "best seasonally dressed" male or female runner.
Win or lose, you'll help a great cause, the Brain Tumor Fund For the Carolinas.
The event is the brainchild of Neal Boyd, who organizes many bike and running races around the Carolinas. "It's just a fun way of keeping people active around the holidays and raising money for a good cause," Neal says.
The good cause – the Brain Tumor Fund for the Carolinas – is a not-for-profit organization dedicated to increasing public awareness of the impact of brain tumors and to providing support for the development of treatment strategies and cooperative biomedical research related to brain tumors in the Charlotte region.
This weekend's race fun includes the costume competition, with the winners receiving a $50 gift certificate from University City's Run For Your Life store at the Arbors. Hang around after the race to enjoy hot chocolate with friends and family.
There will also be vendors, festive music and the awards ceremony. Everyone who pre-registers will get a long-sleeve race T-shirt. Some shirts will also be available on a first-come first-served basis if you register on Saturday morning. Free candy canes to all finishers, too!
Helping stage the event are Run For Your Life and presenting sponsor Peak 10, which is providing the event staging area at its facility at 10101 David Taylor Drive.
Neal says the research park is a great race venue. He also helps organize the annual University City Duathlon on research park roads and trails each spring.
"I personally think it's a great place as the streets are wide and the traffic on weekends is very minimal," Neal said. "Also, it's a very attractive business park with the massive tree canopy.  Many times, business parks are nothing but big ugly buildings.  The natural look to the park makes for a nice event setting or a great place to ride, run or walk."
EVENT DETAILS
• Race Location: Peak 10, 10101 David Taylor Drive, Charlotte
• Registration Info: $25 for the 5k/$30 for the 10k by Dec. 5; $25 for the 5k/$30 for the 10k at University • Run for Your Life on Dec. 6; $30 for the 5k/$35 for the 10k on race day
• Race Awards: Top Three Male/Female 5k and 10k Male/Female
• Age Groups: 10 & Under, 11-14, 15-19, 20-24, 25-29, 30-34, 35-39, 40-44, 45-49, 50-54, 55-59, 60-64, 65-69, 70+
 EVENT DAY SCHEDULE
• 6:45-7:55 am: Registration/Packet Pickup
• 7:50 am: Pre-race Instructions/ and participant applause-o-meter for best-dressed male/female
• 8 am: 10k Race Start
• 8:10 am: 5k Race Start
• 9:45 am: Award Ceremony
LEARN MORE
Click here for more details and to register online