Last week, another key milestone for opening the Blue Line Extension (BLE) in 2017 was achieved when Charlotte Area Transit System (CATS)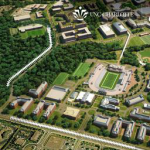 signed a 50-year lease with both NC Railroad and Norfolk Southern. Because there has been considerable confusion, here is a recap of major facts and the schedule for bringing rail to University City.
PATH TO UNC CHARLOTTE
First of all, the path of the line stays on the existing rail line as it leaves uptown, with a new stop at UNC Charlotte's new uptown facility. When it reaches Old Concord Road, rail moves into the North Tryon median. BLE stays in the median until north of the Charlotte Research Institute, where it dips below the roadway, bends to the right and enters campus. In January of last year, the decision was made to have campus be the temporary end point, although it is hoped that the line will go into Cabarrus County at some future time.
FOUR UNIVERSITY CITY STATIONS
In addition to the on-campus station, University City will have three stations, all in the North Tryon median. Two of those stations will have parking decks. The University City Boulevard at North Tryon station will have the larger, 1,500-car deck to catch riders coming from I-85. The 650-car deck at J.W. Clay Boulevard is for riders coming from North Tryon to ride rail. The McCullough station was moved slightly to improve possible shuttle access. In all, the BLE runs 9.4 miles and offers a seamless connection to the south line, which has far exceeded ridership expectations.
MORE MILESTONES
NCDOT held its signing ceremony on campus a few weeks ago, committing the state to one-quarter funding for the line.
The next milestones include approval on final design and what is known as the Full Funding Grant agreement (FFGA) from the Federal Transit Administration (FTA).
This is one of four rail projects in the President's budget and has received much favorable comment from the US Secretary of Transportation and the FTA administrator. If things go as expected, the FFGA will come by December if not before. In addition to the federal commitment to pay half of the cost, CATS will pay the final quarter.
BROAD SUPPORT
It should be noted that the BLE has received bi-partisan support from both Senators Burr and Hagan and all three current congressional representatives, as well as the Metropolitan Transit Commission and Charlotte City Council. Property acquisition has begun along the line. If the schedule holds, construction would begin in 2013.