One challenge for people with Plug-in Electric Vehicles (PEVs) is finding places to recharge. That's not an issue at Innovation Park, which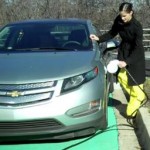 recently installed two stations and plans more. "Drive your PEV to Innovation Park and fill'er up … Cord included," suggests park spokesperson Rebecca Shrum.
Park owner BECO South partnered with Duke Energy and General Electric to install the stations. At 240 volts, the stations can recharge an electric car in four hours. The park has posted a short video on its website to show tenants what to do.
"Simply pull your car into the green designated charging space, unwind the cord and plug the vehicle in," Shrum says while demonstrating the process (above).
Shrum says that one driver has used the chargers so far, but she is getting plenty of comments from people who work at Innovation Park and have thought about getting an electric car.The electric-car charging stations are among 16 energy-saving steps that BECO South has made or plans to make by the end of this year as it continues to transform the former IBM manufacturing site into a truly innovative business park.
For instance, BECO South is in the process of registering the park's two largest office buildings for LEED certification – a national standard for energy efficiency.
BECO has already installed super-efficient LED lighting in its North Park parking structure and the Central Park facility.
The Atrium windows have been covered with 3M Night Vision film that increases heat reduction by 60 percent.
And the park has taken several steps to reduce the costs of heating and cooling its buildings.